Finding His Iris

1913: engineer August Natterer has a series of hallucinatory visions. He draws his eyes after the event with a dark, knotted pattern around one iris. He says that the vision was so powerful it must have left a mark on his actual eye.



material list:

eyewash (4,000 ml) applied to the floor and walls
spruce veneers
steel brackets
synthetic organza
wall sections
Glasgow School of Art Degree Show
Index: Web Portal
09/05/22 - 11/06/22
Excerpt from the
Index
, web portal.
Studies for a Fall

At '
Mish/Mash'
, Govan Project Space.
An image study: levetations split across sheets of dyed organza and felt.
27/01/22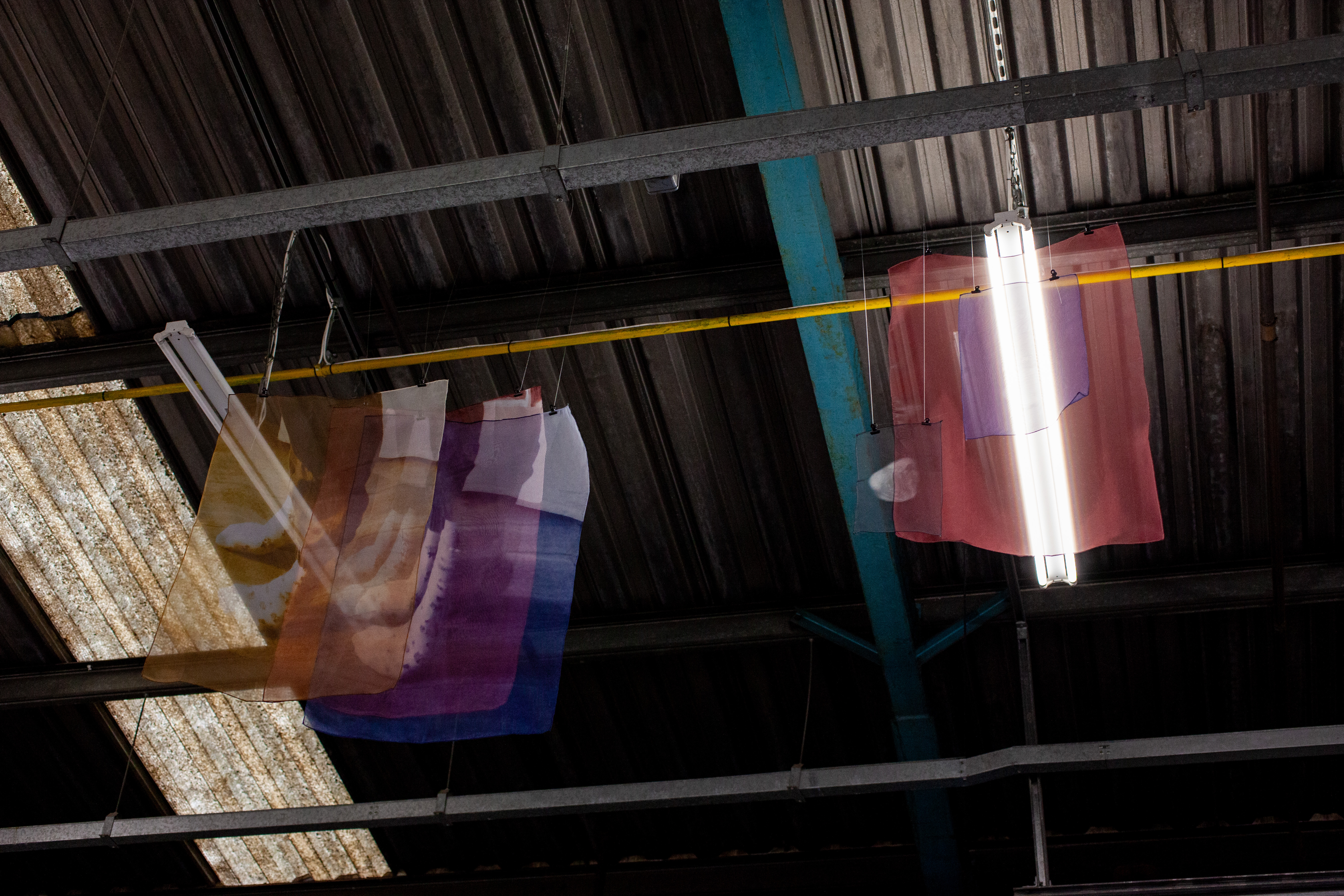 Installation view at
Govan Project Space
.
Work-in-progress prints at
Sink Space
, Stow College.
Art in Hospital: Scanography
Scanography (pdf
)
Interview
with Daisy Richardson
Artist placement with
Art in Hospital
, an organisation which delivers an ongoing visual arts programme for patients in the healthcare areas of Medicine for Older People, Rehabilitation, Palliative Care and Community and Mental Health across the NHS Greater Glasgow & Clyde region of Scotland. The placement took place in Greenfield Park Care Home, The New Victoria Hospital and the Neurological Rehabilitation Unit at The Queen Elizabeth University Hospital.
A publication, titled 'Scanography', was made to document the work made by patients throughout this placement, and an interview of my thoughts on the project with Art in Hospital artist Daisy Richardson is available
here.
20/12/21 - 20/04/22
Acchileas Zoto, Untitled, digital scan, Neurological Rehabilitation Unit (NRU), QEUH, 2022.
Janette Murphy, Untitled, digital scan, Greenfield Park Care Home (GPCH), 2022.
Sections

Digital scanography, ferrofluid on spruce wood.
"
section
(anatomy) a slice of tissue, see: biopsy.
section
(biology) a division of a genus; a group of a species separated by some distinction from others of the same genus.
section
(architecture) a 'section drawing' shows a view of a structure as though its walls had been sliced open."
Shown at:
'Abstraction', Glasgow Gallery of Photography
, November 2022
Glasgow School of Art Drawing Show, 2022, Stow College.
10/03/22
Detail of 'Section' scan.
Installation view.